2018 Membership Renewals

On behalf of the volunteer Board of CASIU, I am sending you this letter to invite you and your coworkers to join CASIU as a member or to renew your memberships.
To do so, I will highlight some of the benefits of membership, but first, I am proud to advise you that CASIU has reviewed its membership dues and we now offer ?a reduced price for membership.  Also, we have been told by members that they would appreciate group rates.  As such, we have listened and responded, and are now pleased to offer the following options:
Individual Regular Membership – $85?/year (a savings of $25/year from previous years),
Regular Group Membership – $1050/year for up to 15 people ($70 x 15, a savings of $225/year)
Regular Group Membership – $2000/year for up to 40 people ($50 x 40, a savings of $1400/year)?
Individual Associates Membership – $250?/year
Group Associates Membership – $500/year for up to 5 people including a company logo listed on the CASIU website.
Law Enforcement- free
All dues are in Canadian funds. A description of the various membership can be found at www.casiu.ca.
We believe that these new rates will allow more people to join CASIU, and in so doing, more people will get one of the biggest benefits of a CASIU membership, which is networking!
CASIU members get the benefit of interacting with SIUs of the various insurers, law enforcement, the Insurance Bureau of Canada ("IBC"), and highly specialized trades, such as experts in investigation, accident reconstruction and cause and origin specialties.  Contacts are especially important when attempting to properly and legally obtain and/or share information on files or issues that are investigation in nature.
As of this year, we will be hosting, free of charge, our "mini-seminars" to members on various insurance fraud topics. This gives members even more exposure to other members, experts and fraud fighting tools. Further, knowledge may be gained from industry leading training and education by attending the annual fraud forum at a discounted member rate.
Together with all your fraud fighting employees, we can win the fight against insurance fraud.
Please visit our website at www.casiu.ca to learn more about our organization. Please also feel free to contact me with your questions, comments or concerns. We look forward to seeing you!
Yours truly,
Ezio Grasso, B.A, CFE
CASIU President
---
Mini Seminar

What a great turnout on the 18th of May for the free CASIU mini conference.
I am sure that everyone learned a great deal about the workings of OMVIC (Ontario Motor Vehicle Industry Council) and the OFM (Office of the Fire Marshal and Emergency Management).
The guest speakers, Michael Rothe, Director of Legal Services for OMVIC and Clive Hubbard and Andrea Gaynor from the OFM gave interesting and detailed presentations on what they do, and perhaps more importantly, how they can assist us with our investigations going forward.
We are certain that everyone learned something new and left the seminar knowing much more than what they knew beforehand.
For those that were unable to attend, not to worry as CASIU will be holding more or these smaller seminars.
In the meanwhile, please remember that our annual Fraud Forum is coming up and so please save September 19, 2017 on your calendars for this. You can anticipate news on this very shortly.
Ezio Grasso
President CASIU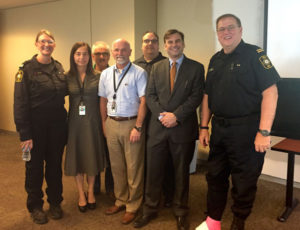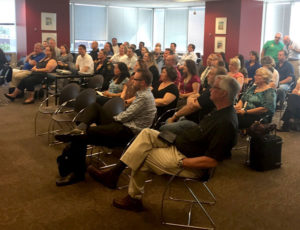 ---
December 2016

As I begin my term as CASIU's president, a role that I am very humbled and excited to have, I thought I'd take this opportunity to say hello, and to affirm my commitment to you, our membership.
While I am just starting my journey here as president, I have gained a number of insights during my tenure as treasurer.  I know that CASIU is committed to leading  the fight against insurance fraud. We have a rich history of creating connections between private industry, and the public sector.  I stand firmly committed to continuing and strengthening this history.
We cannot forget that CASIU is a non for profit organization that is supported by an amazing group of volunteers.  Allow me the opportunity to introduce your new board members and list of advisors.
President: Ezio Grasso, CAA Insurance Company
Vice President: Brian Smith, Desjardins General Insurance Group
Treasurer, Director of Memberships: Michael Damm, RSA
Secretary: Lindsay Hubbard, TD Insurance
Directors At Large
Angelo Miniaci, Allstate
Anna Parkosz, Insurance Bureau of Canada
Linda Liorti, Desjardins Insurance
Jeannie Catania, TD Insurance
Rakesh Sharma, TD Insurance
Advisors
Chair of the Seminar Committee, Debbra Macdonald, C3 Investigations Inc.
Police Liaison, Lou Malbeuf, York Regional Police
CRC Liaison, Bob Gutwein, Accident Support Services International Ltd.
Chair of the Vendors Committee, Brian Sartorelli, Investigative Risk Management Inc.
Special Events, Russ Dow, Investigative Risk Management Inc.
Legal , Andrew T. Grayson, Regan Desjardins LLP
Past President: David Lowe, TD Insurance, Meloche Monnex
Executive Assistant / Webmaster: Silvina Stover, Nailing It Inc.
When I accepted this position, I made a commitment to 'hit the ground listening.' That means not only listening to the board, and advisors, but the membership at large as well.
Please keep an eye out for the 2017 membership renewal email as well as the save the date for the 2017 Fraud Conference.
I look forward to working with you!
Ezio Grasso
President
---